So everyone mostly knows how I get my inspiration for coming up with my recipes. But one of my goals (call it a new years resolution – even though the year is coming to an end) is actually to cook all the recipes in some of my cookbooks. I know to most that seems easy but it is extremely hard for me to follow a recipe exactly. For being such a rule follower in my every day life this does not follow through when I am cooking.
One of the first cookbooks I have chosen to cook through is one given to me from my mother in law when they went to Ireland. This recipe was actually one of the first ones I turned to when I was drooling over all the beautiful pictures in it.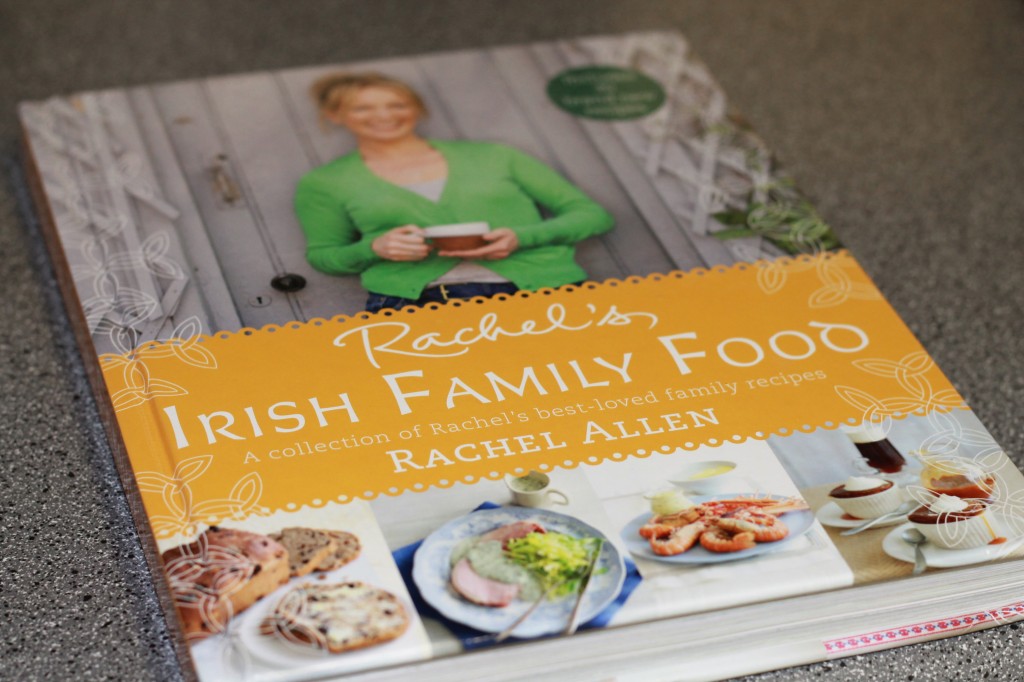 Quick Facts
Cookbook: Rachel's Irish Family Food
Who Wrote It: Rachel Allen
One Of The Reasons I Like This Cookbook: Some people collect T-shirts, some collect vintage records, I collect cookbooks. One of my favorite things is when people travel and they bring me back a cookbook from their adventure. This cookbook makes you feel like you are in Ireland. Rachel tells stories from the different towns and the popular dishes you can find there as well as tales from her childhood all the way up to what her family is up to now.
Recipes I Want to Try: Tomato Relish, Fish Pie, Pork Chops with Sage and Apple, Salmon with Capers and Dill, Roast Duck with Potato Stuffing, Crumbled Bacon Chops with Sweet Whiskey Sauce, Fluffy Lemon Pudding
Recipes That Are Similar to Some of Mine: Herb Butter – Herb Butter; Salad with Beetroot, Toasted Hazelnuts, and Cashel Blue Dressing – Mixed Greens with Roasted Beets and Caramelized Onions; Field Mushroom Soup – Cream of Mushroom Soup, Chicken Casserole with Cheesy Herb Dumplings – Irish Beer Chicken and Parmesan Chive Biscuits, Root Vegetable Mash – Root Vegetable Gratin
What I Cooked: Chicken Casserole with Cheesy Herb Dumplings
Would I Make This Again? Yes but I made note to not top the biscuits with the cheddar cheese until they are almost fully cooked – I felt it made the biscuit tops a little too dense. And I have to make it again John said this is one of his top favorite chicken recipes. (His other is Caprese Chicken).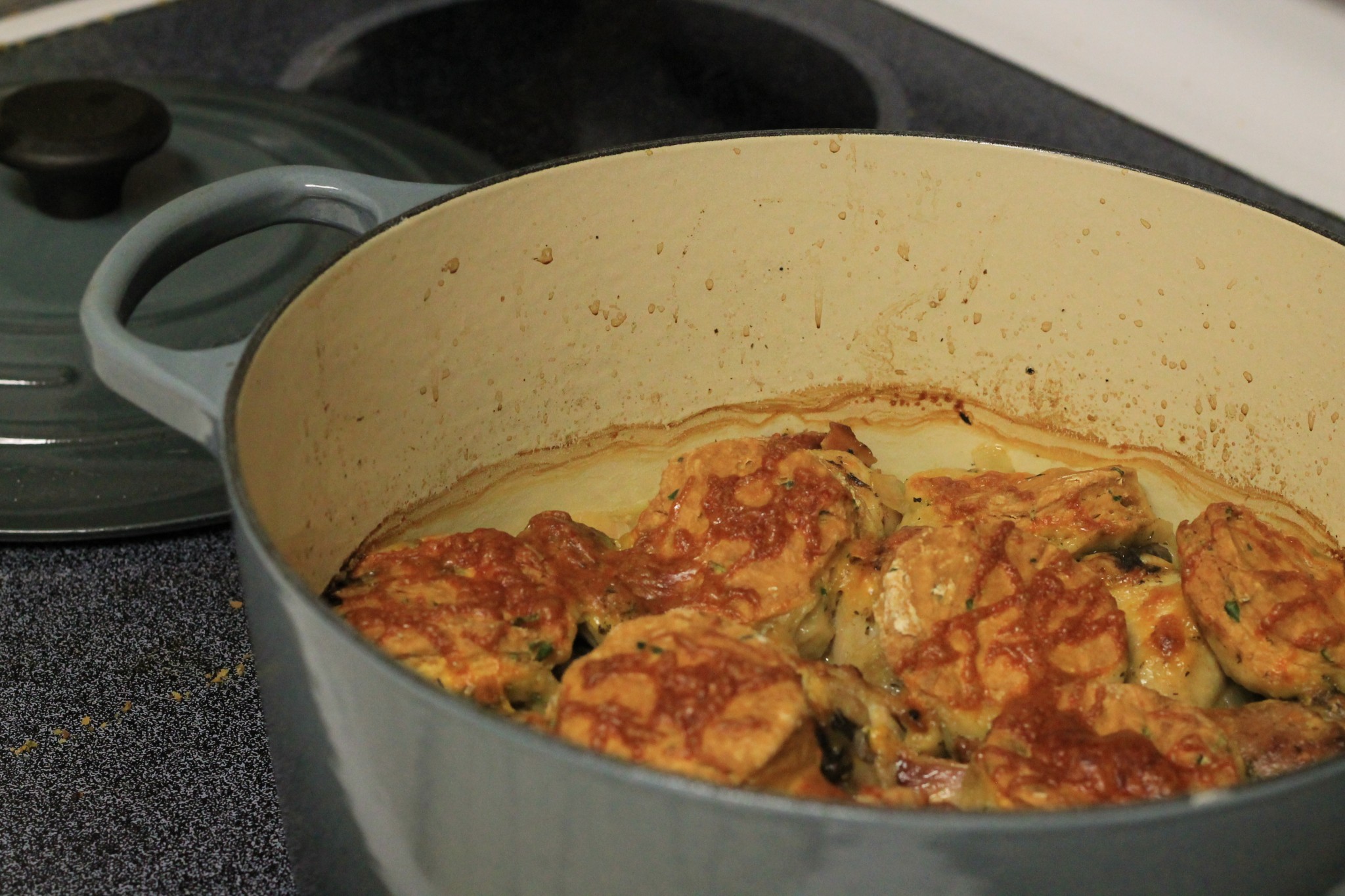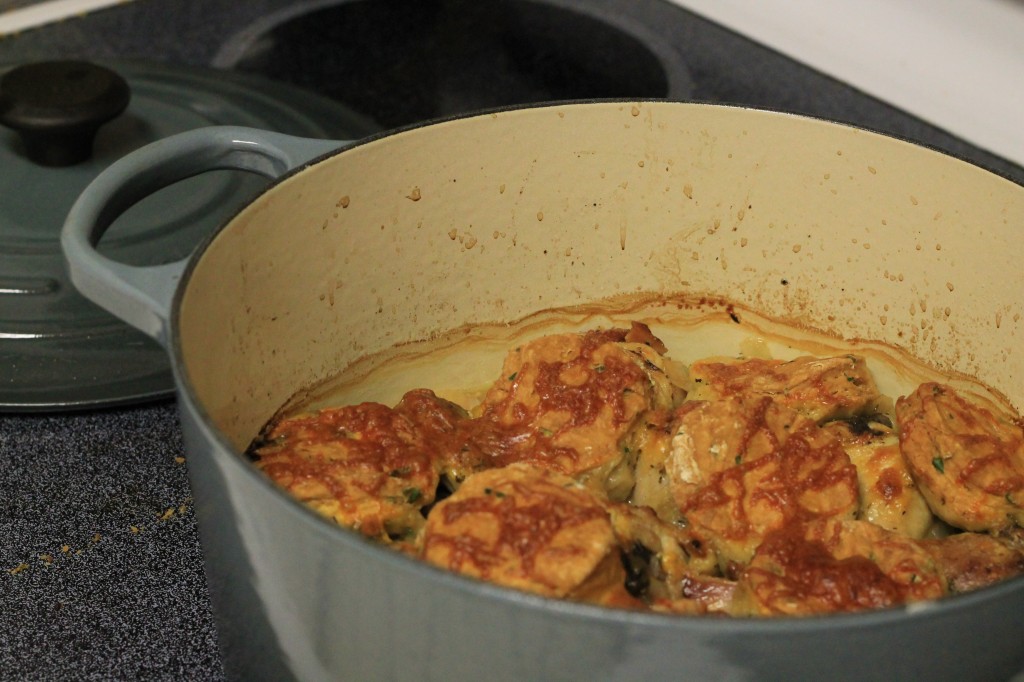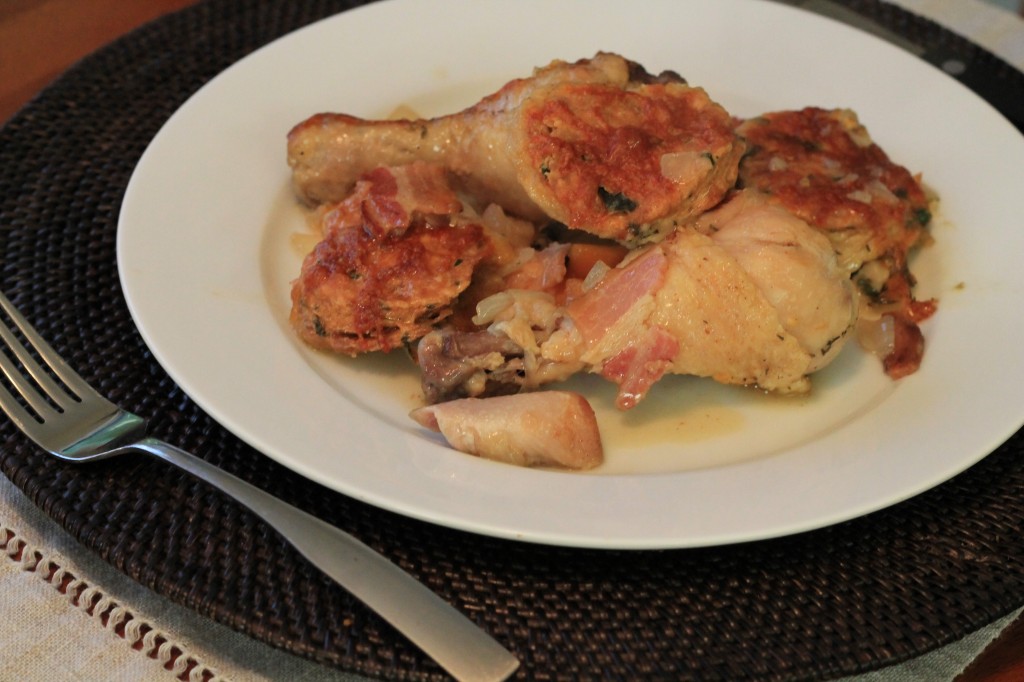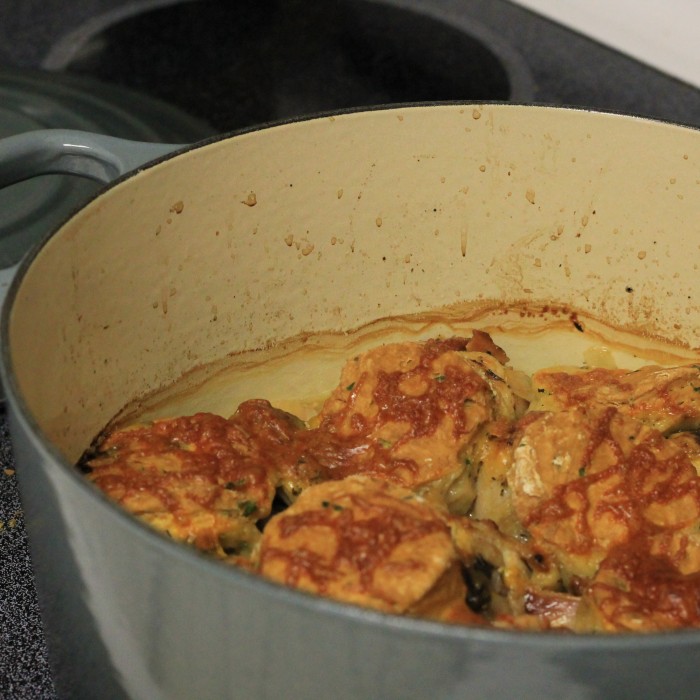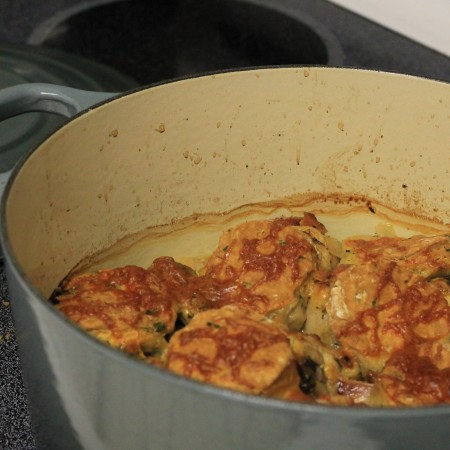 Recipe Card
love it? rate it!
Chicken Casserole with Cheesy Herb Dumplings
Ingredients
1

whole chicken

this was the only part I strayed from, I used 2 lbs. of drumsticks

2

tablespoon

olive oil

12

oz.

of thick cut bacon

cut into 1/2-3/4 in, pieces

1

large onion

roughly chopped

2

large carrots

sliced into 2 cm thick pieces

1 1/4

pints

chicken stock

Sprigs of thyme
For the Cheesy Herb Dumplings:
12

oz.

plain flour

1

teaspoon

baking soda

1

teaspoon

salt

2

tablespoon

finely chopped mixed fresh herbs

11

fluid oz. buttermilk

4

tablespoons

shredded Cheddar cheese
Instructions
Preheat oven to 350 degrees.

Pour olive oil into large casserole dish over high heat. Add the bacon and fry for 1-2 minutes until crisp. Remove with slotted spoon and place aside. Add the chicken in batches and sear on each side until golden then remove. Add the onion and carrots and fry for 2-3 minutes.

Return the bacon and the chicken and add the stock and thyme. Season with salt and pepper. Bring slowly to a boil and cover. Bake in the oven for 20 minutes.

To prepare the dumplings: Sift flour, baking soda, and salt in large bowl. Stir in the fresh herbs. Make a well in the center of the mix and pour in the buttermilk. With one hand, bring the flour and the liquid together. Don't knead the mixture. The dough should be soft but not too wet.

Pour the dough on a floured work surface and form it into a round. Roll the dough with a rolling pin to flatten to about 3/4 inch thick. With a 2 inch biscuit cutter, cut out 10-12 pieces. Roll each one into a small ball and set aside.

Turn the oven up to 450 degrees. Uncover the dish and arrange the dumplings on top, leaving small gaps. Sprinkle with cheese. Leave uncovered and bake for 10 minutes.

Reduce heat to 400 degrees and bake for 20 minutes.
did you make this recipe?
Make sure to follow on Pinterest @easyrecipesfromhome for more easy recipes!
adapted from: Rachel's Irish Family Food, HarperCollins Publishers, 2013.