Back for another round up of some amazing things I ate last month.
Sweet Potato and Turkey Shepherd's Pie – I love the traditional Shepherd's Pie but decided since we have a freezer full of turkey, etc. why not grind it up and reinvent the dish?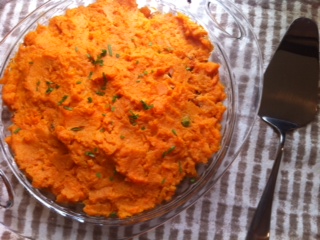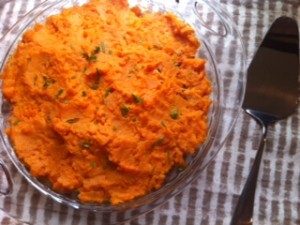 Lorenzos – After 3 months of searching and 2 strikes we finally finding a house. We signed a lease and decided it was worth a celebration – hence the Prosecco – all it really needed was a little limoncello. According to my Indy dining guide it suggested ordering the Red Pepper Pappardelle Bolognese. This pasta was a three meat ragu with a tomato garlic sauce and a little kick. Best pasta I have had since I ate at Capri.
Due to our move last month you will notice a couple of these meals are in to go containers, but that didn't mean the Halls would be eating ordinary take out. I still used the excuse to try out new restaurants. Move in week was approaching us (aka pots/pans and dishes were packed) so there would be no cooking during this time.
Delicia which is a new Latin restaurant that just opened a few months back. And it did not disappoint. I had the Tamal Corn Cakes with barbacoa beef, pico de gallo, cilantro-lime crema, and queso fresco. Mama had the Enchiladas de Verduras with shredded roasted vegetables, chihuahua queso, cilantro-lime crema, guajillo chile sauce, herb green rice. I really want to remake my corn cakes and serve it with the cilantro lime crema with a side of the herb green rice.
Both of these entrees were the perfect compliment to the Queso Fundido con Chorizo – baked chihuahua and panela cheeses, chorizo, tomatillo-poblano sauce, on a tortilla
PEI WEI Diner – Now I had driven past this place quite a few times in the last year of living downtown but never heard anything about it. Come to find out it is a little sister restaurant to PF Changs. And not only was the food just as good but the prices were better! I had the Pad Thai with sweet and sour sauce, tofu, bean sprouts, scallions, egg, crushed peanuts, lime, cilantro, rice noodles. John had the Mongolian beef (tasted like my restaurant remake) and fried rice.
Who could forget all the yummy food I had at Zoobilation?
Made these rich Chocolate Crunch Bars with Bourbon Carmel Sauce for my June Bakin' Friends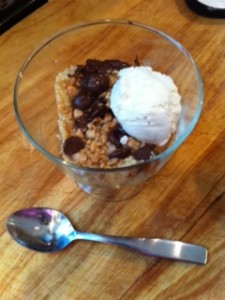 Lunch at Black Market – let me just tell you first I rarely order dessert out to eat (ask John) but then I don't think I have ever ordered dessert for lunch. That was until I saw Strawberry and Rhubarb Pie 2 ways on the menu. First, yum. Second, to be honest I don't think I had ever had rhubarb until then. Needless to say I was obsessed with how tart and sweet both were and the 2 fruits paired up so well together. I quickly ran home and told John I found a dessert that comes quite close to my love for tiramisu.
The next day I looked for rhubarb to try to remake it but was out of luck. I did find some beautiful looking strawberries which ended up on my Strawberry, Spinach and 2 Cheese Grilled Cheese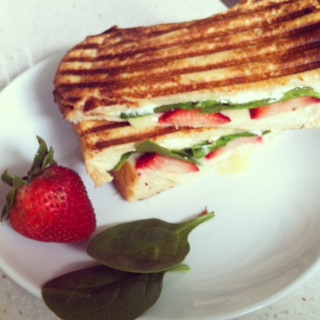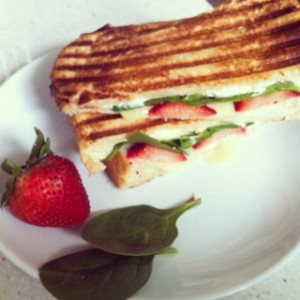 What are your plans for the weekend? I have a whole to do list (30 things actually)…I know remember how OCD I am about my to do lists though, so does it really surprise you? But besides that I am planning on doing a lot of cooking and baking. See what is in the works…
Grit Cakes