Enjoy the summer harvest with this colorful Roasted Vegetable Salad.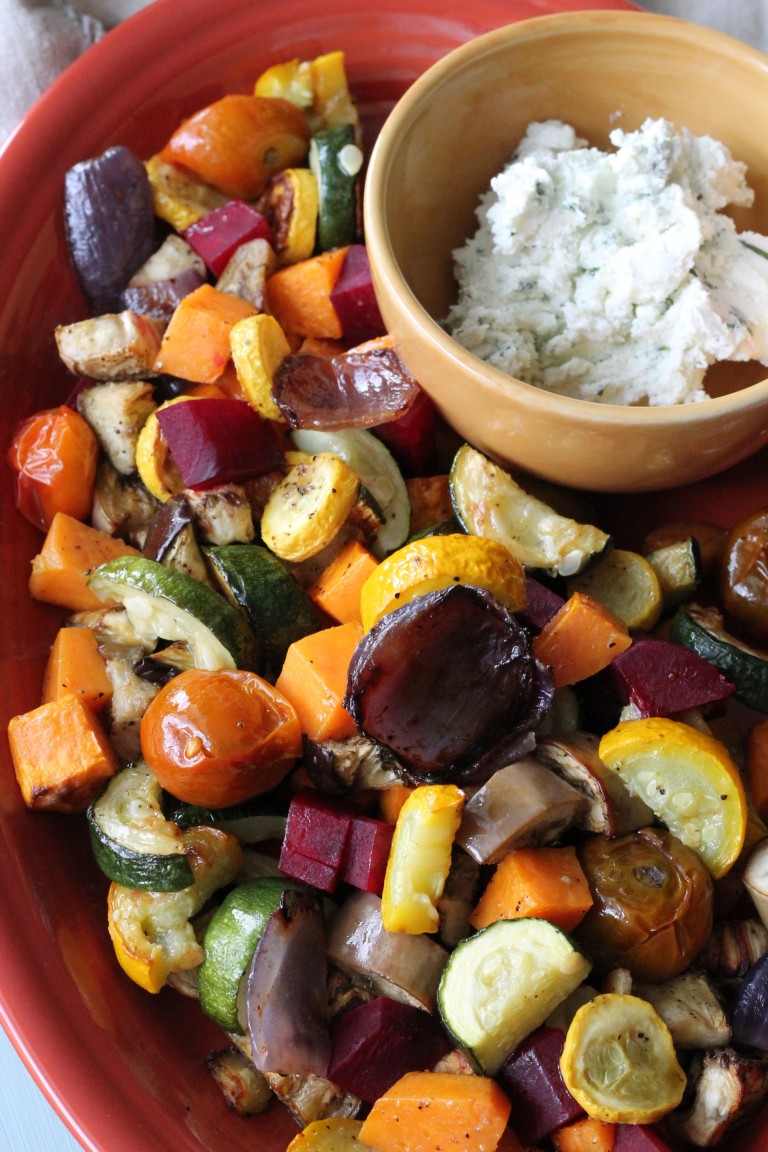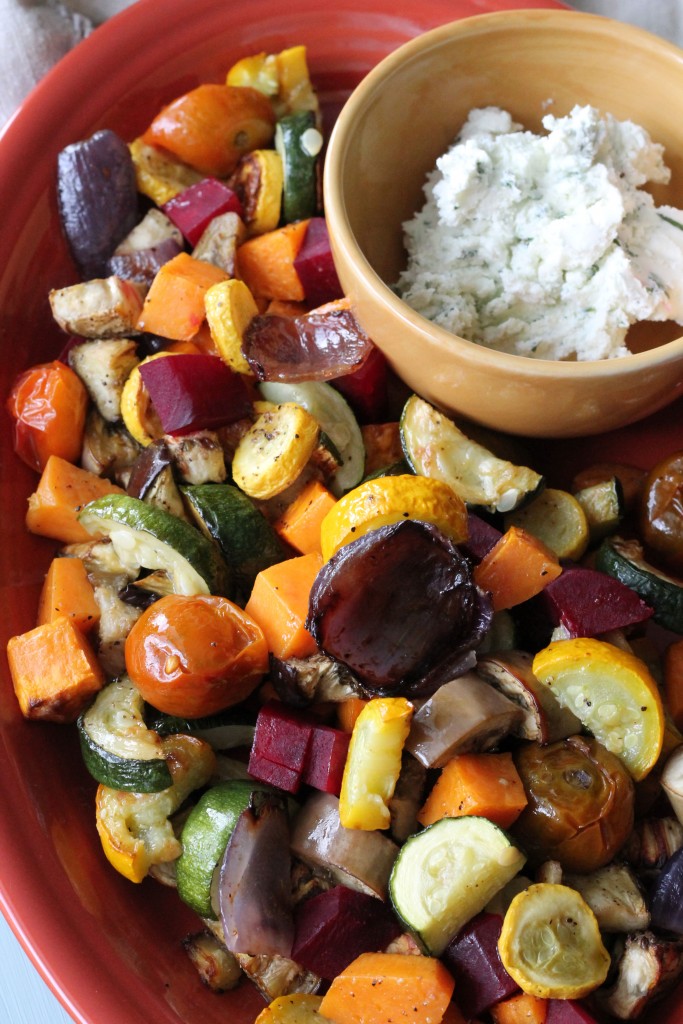 With John Grayson on the move I swear I don't need to go to the gym anymore because he could probably lap his 8 month pregnant waddling Mama at this point. But even though exercising is getting a little harder these days luckily I am going through a salad craving phase.
Remember my burger phase of pregnancy? Glad this one is a little healthier which allows me to indulge to just a little more…right?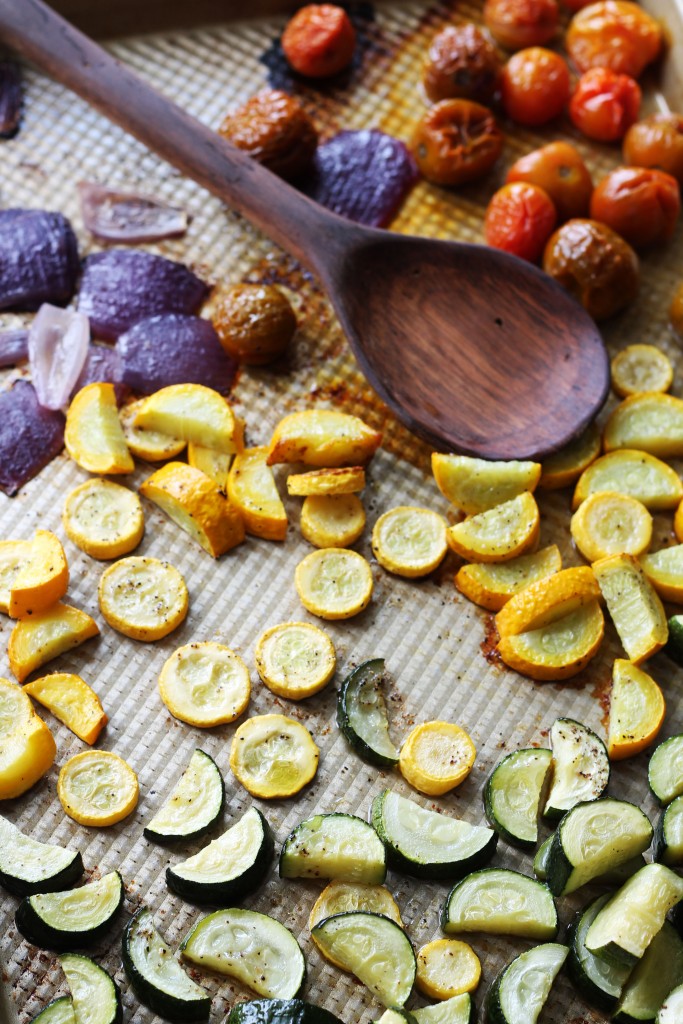 Now it's rare I eat a salad without cheese, whether it's feta with cucumbers & tomatoes or ricotta with arugula & tomatoes – I love cheese on salads! But hands down my favorite cheese in salads is goat cheese. And whipped goat cheese is like WHOA!
Some people have a well stocked pantry for snacks or canned goods -if you come to our house you know we have a well stocked cheese drawer. Nothing else is allowed in there (not like there is any room) – I would say we have about 14 different kinds in there right now – ya no exaggeration.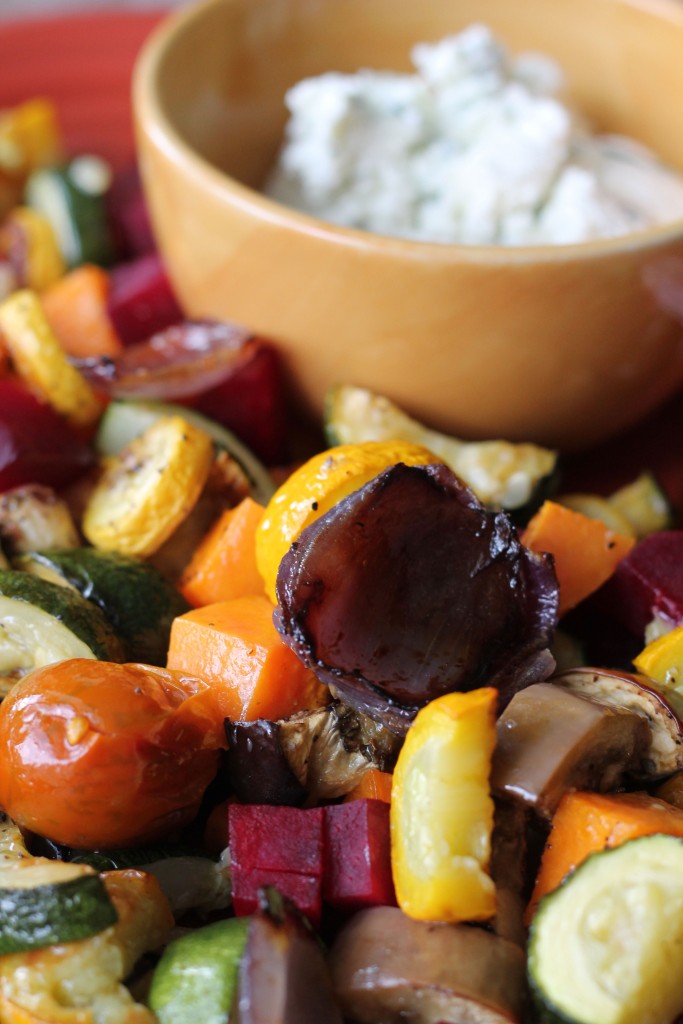 I have thoroughly enjoyed eating seasonally this summer. I feel like when you go to the grocery store of course you can always get a lot of fruits or vegetables any time of year, but there is nothing better than heading to your farmers market and getting some recently harvested vegetables (well at least you hope they are).
Speaking of eating seasonally – you've got to check out the Vintage Mixer for all of her Seasonal Produce Guides. Awesome!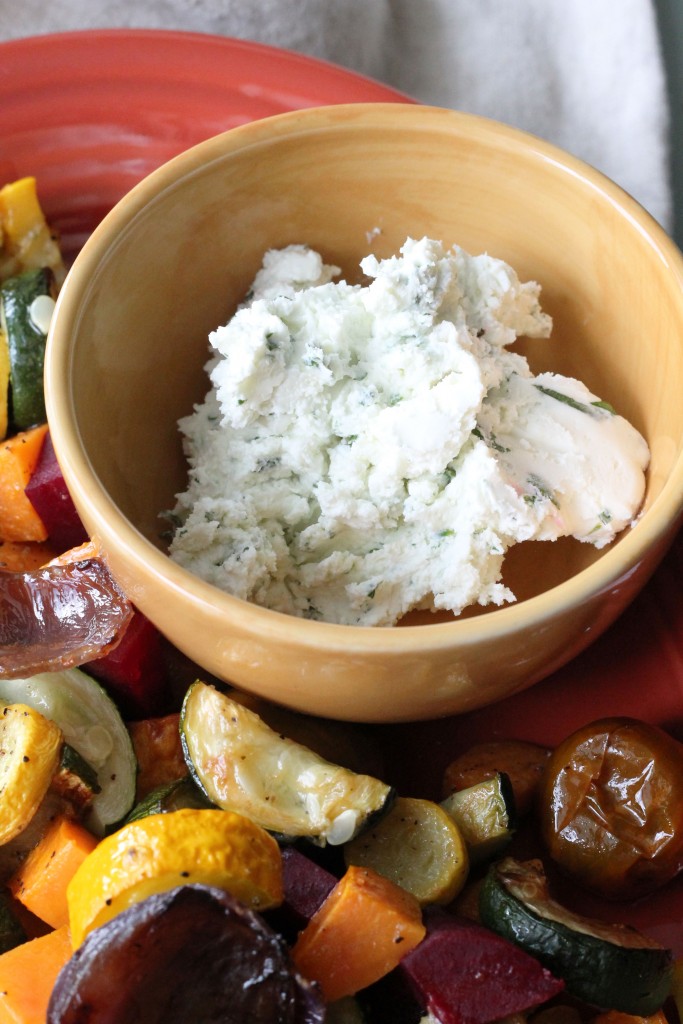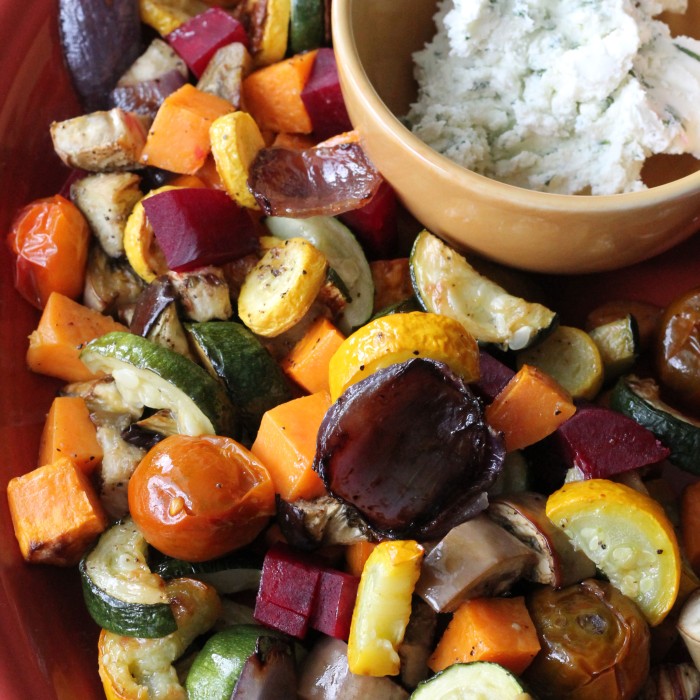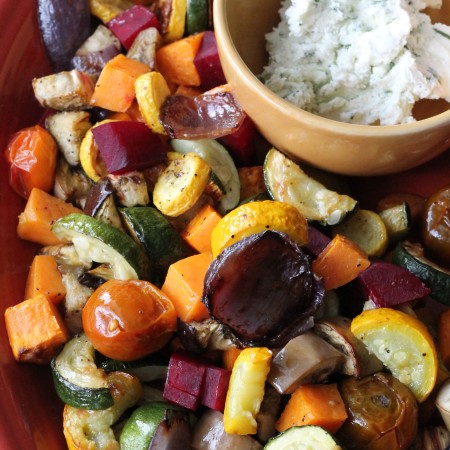 Recipe Card
love it? rate it!
Roasted Vegetable Salad with Whipped Herb Goat Cheese
Ingredients
1/4

cup

olive oil

more if needed

1

large eggplant

cut into 1/2" dice (with ends removed)

2

sweet potatoes

peeled and diced

1

small red onion

cut into wedges, layers removed

1

cup

cherry tomatoes

2

medium zucchini

halved and cut into 1/2" thick slices

3

small yellow squash

halved and cut into 1/2" thick slices

3

ruby beets

peeled and cut into 3/4" pieces

Salt and pepper
Whipped Herb Goat Cheese
6

ounces

goat cheese

softened (I recommend using the log not crumbled)

1

tablespoon

fresh herbs

I used oregano, parsley, rosemary

2

tablespoons

whole milk
Instructions
Preheat oven to 425 degrees.

In a large bowl toss the vegetables with olive oil and season with salt & pepper. Transfer to rimmed baking sheets. Don't overcrowd so you will probably need two.

Roast vegetables until tender, about 20-25 minutes.

Combine the goat cheese, herbs and milk in food processor. Whip for 30-45 seconds until smooth. Transfer to small bowl until ready to use.

Add all vegetables to a serving platter and top with a dollop of goat cheese.
Notes
Feel free to substitute any vegetables to your liking.
did you make this recipe?
Make sure to follow on Pinterest @easyrecipesfromhome for more easy recipes!