There is nothing like a fresh caprese salad, Caprese Chicken, or Caprese Baked Eggs. Okay so maybe I like this combination a little too much. I know you are thinking it's not summer time so why fire up the grill or that most food bloggers are posting Christmas recipes right now. Well just call me your pregnant foodie rebel! Talk to the people who decided December 21 would be National Hamburger Day. So instead of fresh baked cookies baby and I are going to have ourselves a burger!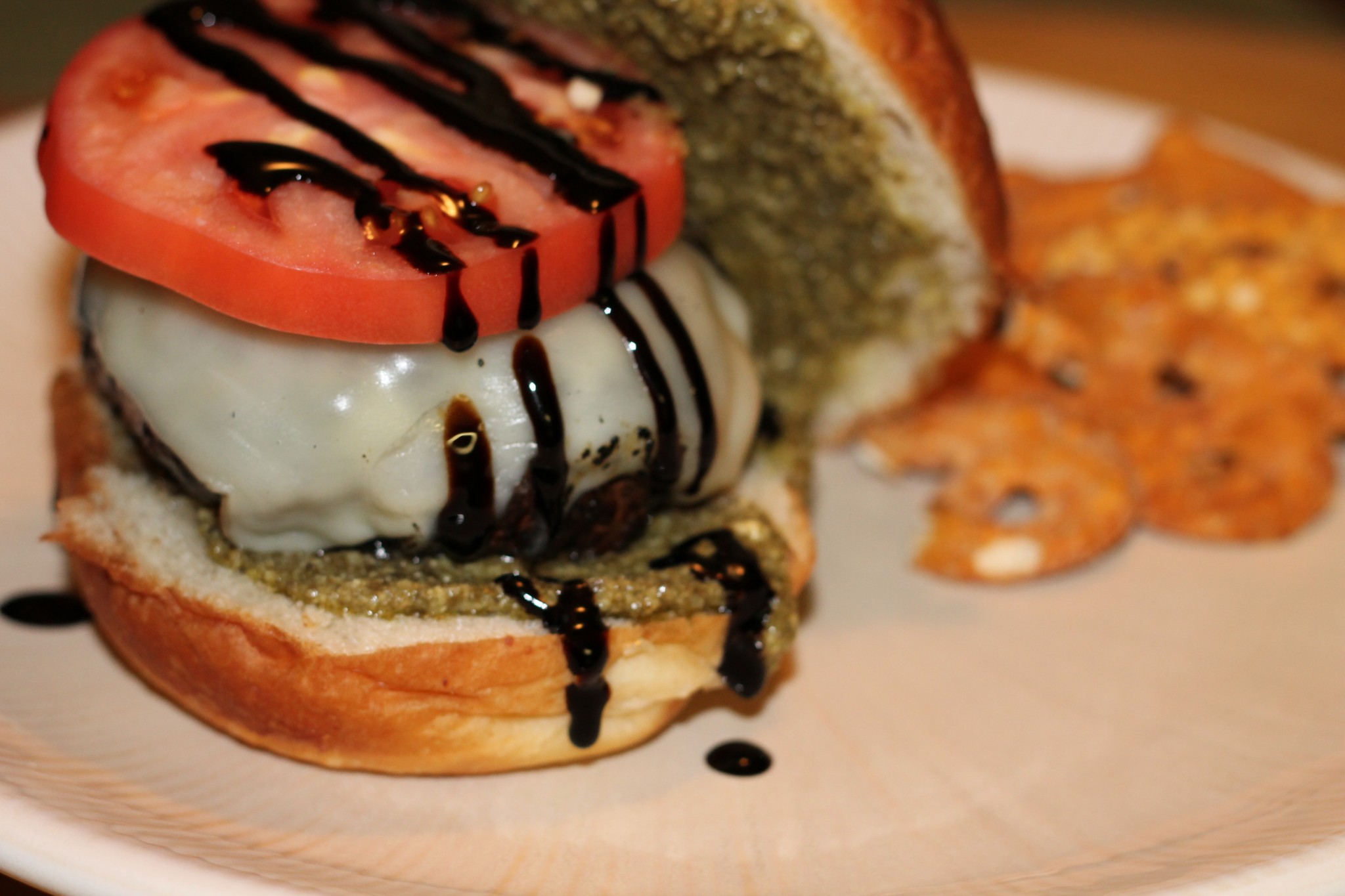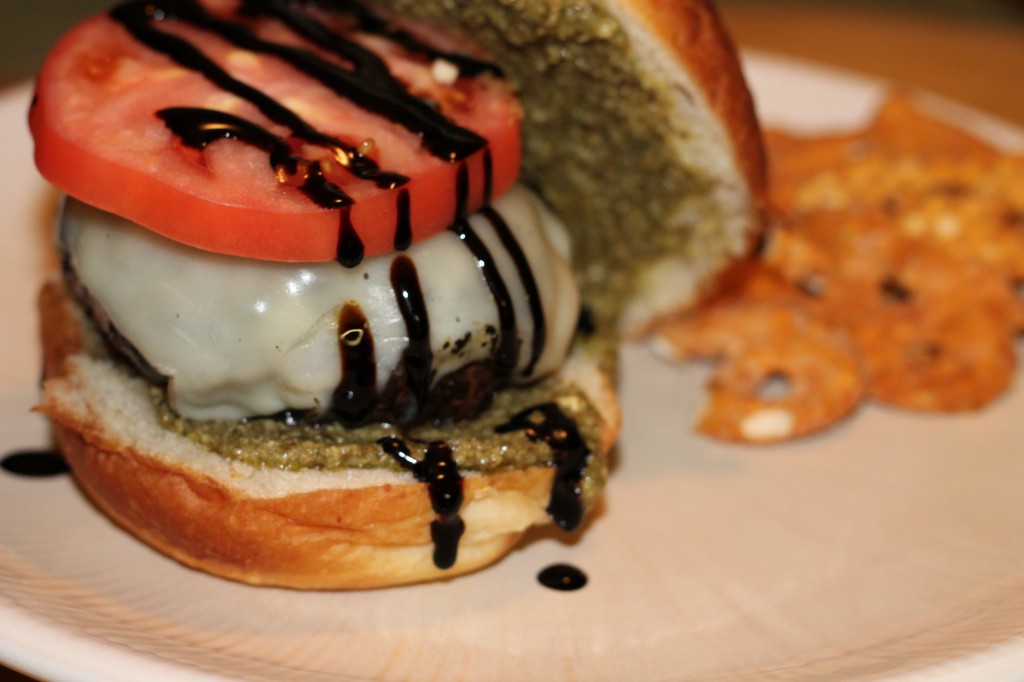 Baby Update: Blueberry is 18 weeks old today and is the size of a bell pepper. So why not try out my Stuffed Bell Peppers?
The other reason is I have been a little scatter brained because all I can think about is today we find out if Blueberry is going to be a John Grayson or a Nora! To say excited is an understatement…can't you see me jumping up and down pumping my fists in the air? Are you picturing it yet? Yes that is exactly what I did when my alarm went off at 5:21 this morning. John laughed because I have been doing this sort of thing all week long. So stay tuned for the gender reveal! Until then have a burger because you know you need something different before the week of Christmas right?!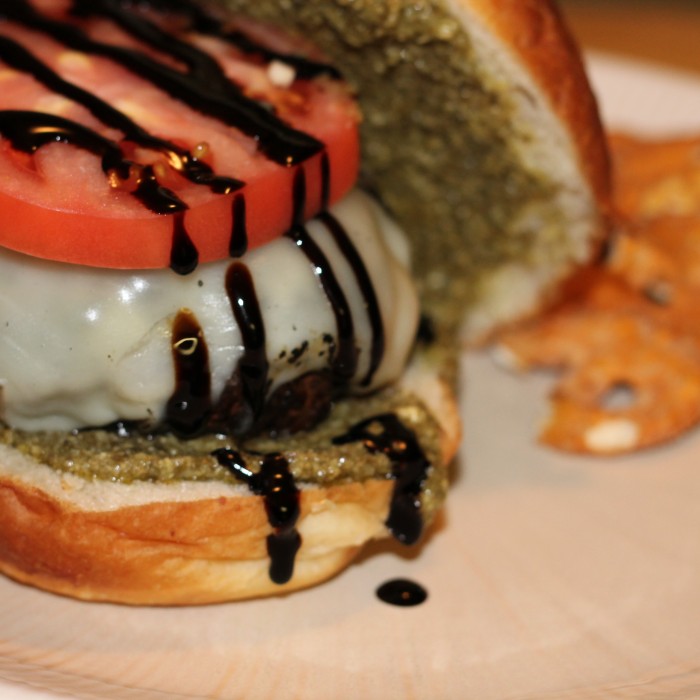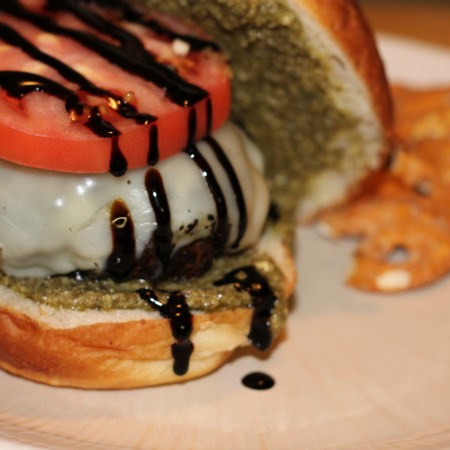 Recipe Card
love it? rate it!
Caprese Burgers
If you love pesto as much as I do, add a little extra to the top bun.
Ingredients
1

pound

ground beef

2

tablespoons

grated Parmesan cheese

2

garlic cloves

minced

1

tablespoon

balsamic vinegar

Pinch

of salt

4

slices

of mozzarella cheese

4

tablespoons

pesto

4

slices

of tomato

4

hamburger buns

Balsamic glaze

optional
Instructions
Combine ground beef, Parmesan cheese, garlic, balsamic vinegar, and salt. Make four patties.

Spread pesto on bottom bun. Place burger on bottom bun, then add a slice of cheese and tomato.

Drizzle with balsamic glaze.

Place top of bun on burger.
did you make this recipe?
Make sure to follow on Pinterest @easyrecipesfromhome for more easy recipes!
Menu for the Week
Sloppy Joes
&
Glazed Carrots
Shrimp & Grits Tamales &
Black Bean Soup