Despite being overly tired lately due to all the traveling I have gotten to eat at some pretty amazing places. First stop was Chicago to celebrate the 4th of July. It didn't compare to the feast we had on New Years in Chicago but I was super excited about eating at Giuliana & Bill Rancic's RPM Italian Restaurant with our friends! And it didn't let me down!
To start off the evening I had the Piccolo Rosa cocktail- Rose, Strawberry, and Prosecco! I never thought I would like Rose wine but it is quickly catching up to my love for Pinot Grigio.
It's no surprise that I wanted to try the Beef Carppacio which is hands down my favorite appetizer to order at restaurants. Even though this was still not as good as Bottega's it was still pretty tasty. The other two appetizers we ordered were bursting with flavor though. Do you ever make a dish and think it is pretty darn tasty and then you go out to eat and have one that is far superior? Well that is how these meatballs were. Not only were they the most tender ones I have ever had, but it made me realize that I have to figure out how to get mine that same texture. They were melt in your mouth good! And then we had the Truffled Garlic Bread to finish off the first course.
The tough part for me was choosing between the two pasta dishes I wanted. Luckily that's where John came in to save the day. He has learned over the years to trust my judgment when it comes to picking out what to eat from a menu. I had Tortelloni with Mascarpone and Rosemary. And he had the Short Rib Pappardelle in Bolognese, Pecorino and Rosemary. Thank you John for sharing!
And what would a meal be without eating dessert? Since our friends came with us to Chicago we convinced the guys we needed 2 desserts for the table to split. We had Bill's Chocolate Budino – Salted Caramel with Cocoa Nibs and also the Tartufo – Hazelnut Gelato with a Chocolate Shell – think of a large Ferrero Rocher.
I know you must be thinking that is enough food to talk about but I can't leave out my what I ate when I went to the beach with the family. The first thing we did was stop at Thomas Donut and Snack Shop in Panama City Beach. This place holds a special place in my heart because it was the first place to convince me that I loved seafood (after not wanting to eat it/thinking I didn't like it for 15 years or so) This is the Shrimp Sub that did it for me.
Then there are the two places that I have to eat at whenever I go to the beach, no matter what! First is Great Southern Café in Seaside. I had the Baked Oyster Trio – Arcadian (Cajun style with shrimp and crawfish), Rockefeller (Spinach, Herbs, and Breadcrumbs), and Bienville (Shrimp, Shallots, and Cheese) and Fried Green Tomatoes with Roasted Red Pepper Remoulade. I have to learn how to make this remoulade.
3 out of 4 meals I had when I was down there we ate seafood but I couldn't turn down pizza for lunch one day when I saw all of my favorite toppings on it – The New Amory Pizza with Pancetta, Caramelized Onions, Roasted Red Peppers, Marinara, and Mozzarella at Amore Pizza in Santa Rosa.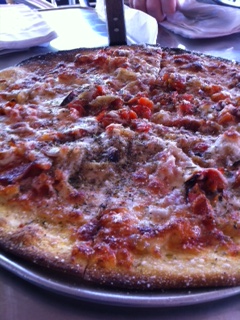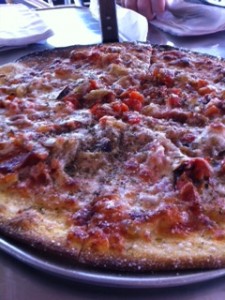 Save the best for last – My new favorite restaurant down on 30 A – V Seagrove. We started off the meal with Dad's favorite – Calamari Fritti with Crisp Cherry Peppers, Smoky Aioli, and Roasted Tomato Agro Dolce. When I found out their Soup Du Jour was a Watermelon and Tomato Gazpacho with Lump Crab Meat I couldn't pass it up! Gazpacho has been the one soup I cannot perfect!
For an entrée both Mama and I had the Cornbread Crusted Black Grouper with Goat Cheese Grits, Scallion Aioli, Fire Roasted Tomatillo Poblano Coulis and Corn Green Tomato Chow Chow. Mouth full isn't it? But worth every bite – it took a lot of restraint not to lick the plate! Dad had the American Red Snapper Paupiette with Lump Crab Roasted Eggplant Stuffing, Summer Gratin, Shaved Fennel, in a Heirloom Tomato Broth.
And to finish it all off we had a good ol' Southern dish of Peach Cobbler with Lemon Pistachio Shortbread Crust, and Homemade Vanilla Ice Cream.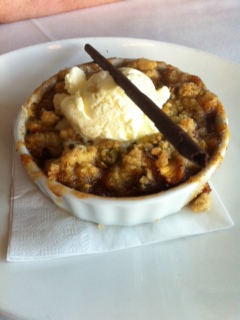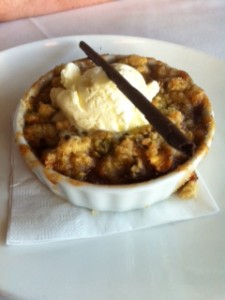 Luckily I got enough running in while at the beach that I didn't gain any weight from all those amazing treats! Thank goodness! Now the real issue is when I go to the beach with John's family for a whole week later this month.